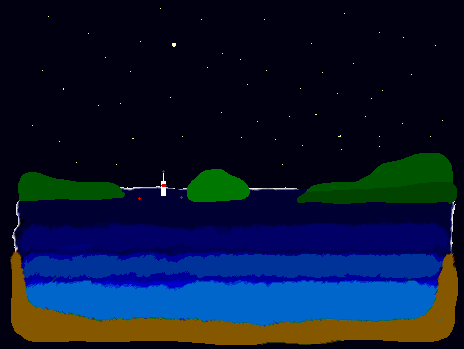 January 2005 Birch Pt. Beach Blog
---
Sat. January 01: No, I did not make it. But I *was* up early enough to see the stars! Me and one other person with a dog. Most of the regular early morning walkers were nowhere to be seen. Maybe next year we should do the New Year's Eve walk to Ypsilanti and back. That'd keep me awake. Anyway, some people may be inclined to work on the taxes and Fafsas today. I say bleag! I think I will: 1) play with my new scanner, the one I need like a hole in the head, 2) dig through my various bead & fiber stashes and bead-crochet something, 3) play the flute? 4) hmmm, hike? Well, I dunno and you don't care :-) Happy New Year!
Sun. January 2: High school counselor re Mouse and college app process: "comment about her academic work, her work ethic, her citizenship, her probable success at college and/or her concern for others." How am I going to write 1-2 paragraphs about Mouse? Heck, what I could write about Mouse would take up about 20 big, thick books. Well, whatever I do write is between me and Mouse but, in the process of thinking about this, here are some of the things that I will *not* write about (Mouse, please don't kick me off the tracks) but almost wish that I could:
Saying "bye bye Mama" and simultaneously waving at the ripe old age of 9 months. Counting to 10 in the back seat of the Jetta at about 16 months (I thought it was Lizard Breath at first but it was coming from the wrong side of the car). Moving on to long, clearly enunciated sentences within the next couple of months, i.e., "Would you please read this book to me?"
At 2, before a company picnic, writing all over her arms and legs with markers, getting a bath to wash it all off, then proceeding to do it all over again! Then trying to smooth it over with, "Mama, it's all right, it's all dried out now." Yes, she went to the picnic like that!
Around the same age, drawing her first "people" with big round mouse ears. All over the cover to my sewing machine, among other non-paper places. Yes, they are still on my sewing machine cover. I forbade the Commander from cleaning them off.
About 2-1/2, writing her name, a rather laborious process that involved turning the paper completely around a few times and resulted in an upside-down "U." Not sure how she wrote it on the kitchen wall, obviously you can't turn a wall around a few times.
3-1/2 years, nursery school student, interrupting a typical conversation between the teacher and Mouse (the stuffed aminal version) to look the teacher straight in the eye and ask, "You do know that it's really just a toy, don't you?"
Age 5, arguing with The Commander about the need for a jacket on a cold, windy, 60 degree day on the shores of Lake Superior. "Well, I have some nice warm mouse fur, so I don't need one." Mouse 10, Commander 0.
2nd grade: probably the only time in history that Mouse came home from school in tears despite her rather tentative relationship with school in general. What could possibly be wrong? She had made a "cute" snowball during recess that afternoon and was terrified that some bad person (a boy, probably ;-) would pulverize it. Well, of course, I saddled up Sugar and we headed over there to haul the snowball home so it could melt undisturbed in our own front yard.
Speaking of Sugar, that reminds me of the days when Sugar and Jealousy were tethered to the front porch and I was carefully instructed to make sure that they had bowls of warm water at all times while the girls were at school.
4th grade, in response to a tentative inquiry I made regarding the status of one of those horrible "projects" that the kids always waited until the last possible nano-second to start: "*You*, *keep* yourself *out* of my business!"
Mon. January 3:
Dear K College,
Your email server seems to be down. And it is taking *days* for bounce messages to appear. Is someone asleep at the switch?
Sincerely yours,
Lizard Breath's Mom
Dear Lizard Breath,
The reason you haven't heard from me since about last Wednesday is because the messages I sent on Thursday and Friday bounced and I didn't get any bounce messages until today. Check your ababsurdo mail. I know there are more exciting people to get email from than mom, but I did write :-)
Love <3 <3 <3,
Mom the Geek
Tue. January 4: Lydia Mendelssohn Theatre? Power Center? Sorry, but neither of those places have *anything* over the Westgate Kroger, which on any given day is just about the best theatre in town:
Arlene, A#1 U-scan cashier, and some customer manage to more or less explode a *large* glass 50% off Christmas decoration.
An *ancient* woman, standing by the green peppers, fighting with one of those plastic produce bags, exclaims loudly, "I *hate* these stupid bags, you can never get 'em open!" My sentiments exactly and she sure had more on the ball than the old gal ahead of me at the library lot this morning, who took f-o-r-e-v-e-r to pull up to the ticket machine and o-p-e-n her Caddy's power window to get her ticket. And then proceeded to hit the car next to her hard enough to knock it around while taking an e-t-e-r-n-i-t-y to pull into a parking place. I was trying so hard to get around her before she backed into me or whatever that I squealed my tires (!)
Last but not least, G, the best bagger and cart wrangler in the midwest: "Hey, gettin' ready to run the mile?" Me: "Yeah! You too, eh?" G: "I wish I could keep up with *you*!" (Yeah, man!)
Wed. January 5: Comments from Europe (Budapest to Berlin to Paris to Madrid to Cáceres):
| the showers in tyson's "dorm" are a showerhead in a tub
| with no curtain that are run off the sink faucet by a rubber hose. yay eastern europe!
Hmmm, any kid who has been at the Luxurious Courtois Cabin (now demolished) at Houghton Lake during the winter oughtta be able to deal with that >:->> This was our indoor plumbing system and this was the winter shower procedure.
| i don't know that you're life is UNexotic. i mean look at all the weirdos you know.
Any comments, y'all? ;-)
And finally there was something about 5 week vacations and being married for 6 gazillion years, but I better not repeat that. Girls night out, anyone?
Thu. January 6: Not one blasted iota of anything exciting or adventurous or even humorous happened today. No, a bitsy little snowstorm doesn't count. Ho-hum, this is *Michigan* and it is *January*, snow happens. Hello! But I spent most of the day writing a monstrosity, my job description for the theatre guild, a document I have been trying to write for the last 6 years. It only includes what I do for *plays*, not the summer camp, board duties or other stuff. But we do five plays a year, so... Anyway, I doubt that too many people are terribly interested and I don't much give a rat's you-know-what if they are or not, but here it is.
Fri. January 7: A post-it note stuck on my powerbook keyboard proclaims, "Adventure w/ Kati." And it's a good thing I just happened to think of sticking my *keys* in my jacket pocket before I left for my walk this afternoon because I'd've been up that infamous paddle-less crick locked out otherwise. With an almost-18-going-on-25-with-flashes-of-2/12-year-old high school senior with unlimited access to a rusty, holey old jalopy and accompanying gas credit card around, one never quite knows who'll be in the house when. Just getcher goddamn on-line math class done, kiddo >>:-< Uh, sorry 'bout those language transgressions >:->>
Sat. January 8: Dig, dredge and trash. Dig, dredge and trash. This is my last year ever as a non-profit treasurer (I think). I am gonna be glad to hand this thing on. Five school organizations over the years and one memory (of many) from each:
Stone School Co-op Nursery (1991-92): Starting out not having the *faintest* idea of what I was doing but immediately deciding I wasn't gonna use that umpteen-column paper and subsequently dragging the whole darn thing into a set of spreadsheets, to the horror of the "district" treasurer, or whatever she was called. On into the future!!
Haisley Elementary (1995-1998): receiving the treasury and being told, "I can't get the checkbook to balance. I don't know if it's the bounced checks or what. And we're getting these nasty letters from the IRS." Uh, okay. Dredge, dredge, dredge. Hm, that would be the bounced checks *and* the umpteen million recording errors made in the 3-4 years since the checkbook was last successfully balanced. And we won't go into the IRS stuff but fixing that involved nitpicking back through 6 years of records. All the while keeping the principal at bay in her efforts to hide funds from the membership (!).

Middle Years Alternative

(1996-1998, no website, MYA is dead): Deciding it would be okay to go to a pto meeting dressed in scruffy looking shorts and tie-dyed t-shirt, thinking, "oh it'll just be the usual 4-5 people." Getting there and finding a room full of the type of self-involved disgruntled parents that there are too many of in this town. Their mission was to rake the teachers and administrators over the coals about something that happened to their poor spoiled little darlings on a trip (sorry, too many of those too). They brought in some sort of "advocate" and a *videographer*!!! I never quite understood what the all the fuss was about, the Lizard seemed to have a good time on that trip.
Forsythe Middle School (1999-2001): running the ticket sale at "fun nights" and coming home with huge ziploc bags stuffed with cash which sat on the kitchen counter until Monday when the bank was open, prompting a visitor to speculate that I was dealing drugs. Btw, I always had a great time at "fun nights" but Mouse went to *one*, decided they were *not* fun and *never* went to another one ;-)
Commie High (2002-2005): after a month of trying to politely futz around with the previous treasurer and the bank, staging a sit-in at the bank (TCF, absolute worst customer service in town) to get them to hand the checking account over to me. A fellow pto officer, upon hearing the climactic chapter in this long sad story, said, "at that point, I would've reached into my purse, taken out my gun, and started shooting."
It's been surreal. Accounting can be just as creative as any of the arts ;-) I have an odd little talent for leaving treasuries with *much* more money than what they had when I started. Why the heck this talent does not translate over to my own household budget, I cannot figure. I am done. Or will be come this summer. It was fun. I've decided I won't miss it. (Somebody please volunteer to take it over ;-)
Sun. January 9: 1st order of business. Happy Birthday to The Commander. We won't say how many years. I wasn't quite quick enough to call the Commander to sing happy birthday to her so *she* called *me*, with the sad news that our uncle Tatsuo Takei, husband of the Commander's sister Roberta, has died. He and Roberta were together many years. They shared an interest in Asian art and culture and have been actively involved in related organizations in the Detroit area. Tatsuo will be greatly missed.
2nd order of business. Yes, you guys *are* crazy! (You know who you are... ;-) And now that we're back from skiing, y'all can guess who.
3rd order of business. Today's blog is to be continued. Right now I am gonna ski while the skiing is still passable. Prob'ly wet and slippery snow. Two glides forward and three slips back. But who cares. s'later... ...and, we're back! And it was pretty good, started out a little icy but got softer and just a little slushy toward the end. Great skiing at the Geology Center this winter!
4th order of business. new cabin begins at Houghton Lake, plus some other Houghton Lake scenes from December 30-31.
Mon. January 10: Slog slog shuffle shuffle slog slog slog. Do I wade thru 6 inches of slushy rotten snow or do I play black-ice roulette on the intermittently scraped-"dry" sidewalks? City of Ann Arbor: it's been 2 whole *days* since the last flake fell. Plow already. People of Ann Arbor: I am gonna blow up your damn snow-blowers! Well, the elderly and/or infirm can keep 'em. But. When you leave a completely smooth surface on your sidewalk and the temperature hangs in the 30 degree range, BLACK ICE forms. Haven't y'all ever heard of a *shovel*?? It is an implement with a scoop and a long handle. You pick up the snow with the scoop and throw it onto a neighboring snowbank. No, you do not end up with a smooth, flat, neat, beautiful sidewalk. But a little leftover snow makes for good traction. And shoveling is good exercise. So take a break from your damn elliptical machines et al and get out there and shovel. If you *do* have to use a blower, please, please, please throw a little salt down when you're done. Otherwise I'll have to put on my trillium bandit outfit and stealth-salt your sidewalk. Slog slog shuffle shuffle slog slog slog.
Tue. January 11: Good morning to you. Good morning to you. There's no school this morning. good morning to you. (Sung gently at 7:30 AM outside Mouse's door to the toon of "Happy Birthday." ;-) Mouse does not have school today but I apparently do so I'm gonna saddle up the POC and wade thru the snow across town to WCC. Let's see if I can keep up my 4.0 average this semester >:->>
Wed. January 12: Well, drip, drip is just about all I have to say.
Thu. January 13: The Marquis of Axe emerges once again: "If I'm coming from St. Louis how do I find your website?"
That depends on whether or not all of your packets plan to take the same route.
Fri. January 14: Grrr
Sat. January 15: Happy birthday to the Grinch! A new era begins at Houghton Lake. And it's the last day of shipping here in the land of the ice and snow but I don't see any boats. Maybe boat nerd knows the scoop. (Yo boatnerd, your site does not load quickly and sometimes not at all.)
Sun. January 16: At 7:30 this morning, I stood on a snowbank at Brady Park in minus 9 degree weather and, through my froggy glasses, watched the last boat go down, the Edmund H. Gott. I will probably have to spend the rest of the day hanging around with an 800 pound gorilla, doing exactly what he tells me to do.
Mon. January 17: OMG! I haven't even done my GD blog yet!!! Trial by fire with a bit of ice and snow thrown in for good measure. Don't get me wrong, it was a FUN weekend in Sault Ste. Siberia and it has been a FUN day drivin' back to A2, the worst snow was in the snow belts. And "Grrr" *IS* a proper blog and sometimes it doesn't mean exactly what y'all might think it means >:->>
Tue. January 18: A Boatnerd responds: "issa 'edwin h. gott' hee hee . . . you've let the fitz get to yer head!!!" -Valdemort Factoid, the Talking Binoculars of Birch Point Beach.
Hmmm, actually, I thought it was the Joseph P. Cotton at first!
Wed. January 19: No time for a "proper" blog, not to mention nothing interesting to blog *about*, so check out some pics from the land of ice and snow.
Thu. January 20: Well, I do have pics from a certain European boondoggle but I've spent the day slogging through a list of to-dos that completely defies description all the while resisting the urge to shock or depress various unsuspecting entities. So, tomorrow. I do have a few things to say though. One is that when, admist the hundred tons of spam email I get every day, a message arrives with the subject "Garage," it can only be one person. Whether or not it qualifies as spam, I haven't decided yet. And, actually, I do kinda like the looks of the old Jack McNaughton boathouse. It's a nice color and the porcupines have decorated it up just dandy. Martha would be thrilled. And there *are* a few people in the world that will *never* have email. Er, on second or third thought, actually I think they *do* have email, or were at least assigned an email id sometime in history. It's just that they cannot navigate thru the dry-wall buckets to get to the computer, nor do they particularly care to. What the heck? It's all worms and viruses down in that lair and ski-bushwhacking is *way* more fun anyway, isn't it? And, finally, prob'ly my all time *favorite* email message subject was "groelectroencephalogramw your pesoffitnis." I dunno why. Yes, of course it was spam. What did you think? And yes, this was random but I sure had fun writing it!
Fri. January 21: The feedback seems to be that I have invalid dates on some of my web pages :-) Yes, y'all are right! The the new construction at Houghton Lake definitely did *not* happen in 2004! At this time last year, we were hanging out at the old place and I had a little run-in with an ice floe, didn't even notice the blood till hours later, so had to *peel* a couple of layers of clothing off to get at the wound :-) Just like the old days over at Lincoln School, where it seemed like I was always in the nurse's office gettin' that pink stuff put on a cut from dare-devil swinging or whatever. My center of gravity was *way* lower in those years. Anywho, I will fix those files eventually but that means editing *19* html files and re-posting them. So, don't hold yer breath! And what're we doing here? Catching rodents (again) and gleefully anticipating a winter storm. Sheesh, I have skied more in A2 this winter than I have in the 25 years I've lived here and it is the *only* place I've managed to ski this year for various reasons. So, I am halfway thru writing html so I can post pics of Lizard Breath's junket around Europe during the holidays. But YAG owned me today. And WCC owns me tomorrow. And I am gonna ski on Sunday come hell or high water, like what's on the Urine River right now, come to think of it, white-water winter kayakers, you GO! And once again randomness rules my blog! Yay for randomness.
Sat. January 22: Jim F: "I, for one, did not notice the year snafu. What year is this anyway?? And who cares?" My sentiments exactly! But I did fix the date error in the cabin construction slide show, so all you sticklers for accuracy can breathe a sigh of relief :-) :-) (If the date is still bad, refresh/reload should fix it.) Also, as you can see, I have now replaced the offensive porcupine boathouse/old bat picture with a slide show of Europe: Cáceres to Sevilla and back, then to Madrid, Berlin, Budapest, Krakow, Budapest, Berlin, Paris, Madrid, Cáceres (not all cities represented in pictures). And here I am shoveling snow as usual in good old Michigan. Hope I matched up the captions right!
Sun. January 23: taxesfafsalotsasnownoskigrrrrrrrr
Mon. January 24: One down, two to go. Flooded? Maybe. I dunno. I do not want to mess with it. All I know is that it is the first time pretty much all year that I've done the Commie run and it is a darn good thing I was not in class this morning!
Tue. January 25: zzzzzz.... ker-flump. snort. huh? 3 out of 3. And i ain't talking 'bout vee-hickles this time.
Wed. January 26: It's casting time again. And some people are happy and some people are not. And sometimes it's the parents who aren't happy with the casting. And that's life. And I'm tired. And I give up. And some of these people will no doubt be the ones who will still try to micromanage their kids' lives after they go away to college, not to mention harassing the people who run the colleges. According to a fairly recent A2 Snooze article, people are actually communicating with their kids regularly via instant messenger and places like the U of M are sending out newsletters to all of the parents telling about what all the nice young students are doing. I have to admit, I do know of other moms who keep up with their kids via I/M. And that's good, I guess. Me? Hmmm, back in 2002-03 when my dear darling oldest daughter first ventured off to kzoo, I thought I would be really cool and do that with *my* kid. Not! "Mom, what are you doing on here? Don't you have anything to *do*?" So, my only two buddies are, well, I won't divulge their handles here but they are my archaeologist buddy and a big band nut. They are not in college. I am, but my mom doesn't talk to *me* on I/M. People, chill! (Mouse hates when I use that word "chill" >:->>) Unless your kid is living at home, you have no way of knowing what's going on at that college. Do you actually think they are calling you from the *library* every time they say they are calling you from the library? Think back a few years. What was it like when *you* went to college? Did you always tell *your* parents everything that went on? >:->> And, btw, I *am* currently in the library and that is *really* where I am!
And, speaking of college, my baby dinosaur comes home from Europe one month from today and she only has 1-1/3 years left in college :-0
Thu. January 27: Do these sox match? Since I have had them on all day and traversed major sections of the city with them, I guess they do. Yay for getting dressed in the dark!
Fri. January 28:
| Your Mom doesn't know how to talk on i?!!!!! Oh yeh, I did look up
| the proceeder but didn't attempt it for two reasons.........................one - I didn't
| have time nor did you and two - when we see each other the conversation goes a mile a minute
That be the Commander and "I?" means "I/M" and "proceeder" is "procedure" -- Grammar Nazi apparently vacated the Commander's brain for the duration. A mile a minute? Yeah, us MacMullans *do* like to talk.
Sat. January 29:
Lizard Breath on why someone I sent an email to might not have replied snap-flash-immediately:
| maybe they didnīt reply yet beecause they are at their ratty old
| cabin and havenīt gotten as far as connecting themselve to hte internet
| from the shed yet?
Yeah, I know, and my keyboard is filthy too. And so is my screen for that matter.
Sun. January 30: Hmm, it is after midnight, so I guess I can blog already and prob'ly the randomness cops are all elsewhere which is good because after midnight, I am definitely random! Y'all won't catch me a-bloggin' at this time-a-night too often. Anyway, George Bedard and the Kingpins are on the radio right now playing the William Tell Overture by Giacchino Rossini (I had to google his first name, I think it's spelled wrong). This is the second time tonight I have heard them play that piece. They are not a classical group. It is the jazz station and George Bedard and the Kingpins were described the first time I heard them play William Tell tonight, at the annual Ann Arbor Folk Festival, as "Buddy Holly goes to the beach." And that about says it. When I was in 8th grade, we played the William Tell Overture in band. That's right, there is an arrangement floating around out there somewhere for wind ensemble. When I was in junior high, there was only *one* instrumental music teacher in the whole school district of Sault Ste. Siberia. It is a small town compared to Megalopolis but it had a large school district. So there was no junior high band. The junior high school was attached to the high school by a long hallway and we trucked over there to be in the high school band. And, on the days we had junior high music class, we were late to class. One day Mrs. Arne kicked us out when we came in late. Terrified, we headed on down to the principal's office and Mr. Kranz came in drinking a bottle of coke (we were amazed by that -- god only knows why). He told us we didn't have to attend junior high music class any more 'cause we were in the high school band. I think we might've been set up ;-) The William Tell Overture was *hard*. That's because it was a crappy transcription that didn't modify any of the idiomatic violin parts into something more suitable for flutes and clarinets. But we had some good players and we managed it. I was 3rd chair. That was the year I managed to beat my way through a whole bunch of high school flute players, including some seniors, up to 3rd chair. 1st chair graduated that year. 2nd chair was a sophomore and we ran neck and neck until she graduated. And no one could touch me after that. But I ended up being a sort of a computer geek/slacker anyway... And the folk festival? It wasn't *bad*. I can tell good musicians. And I can tell good music. And I can tell good *performers*. And everyone there qualified. And there was one kinda wild bluegrass group, King Wilkie that I might even buy their CD. But, in general, it was not particularly music I am interested in. Sorry. I like Celtic. I like classical flute (I've played and *memorized* most of that). Crappy alternative rock in the POC trucking around town. Jazz on weekend late nights. Folk on Sunday evening. Classical after one of those very long days. Country? not, with the exception of a few random tunes on Agaloogabooganigby. With a little cajun and other stuff thrown in for good measure. And, for my apolitical taste, there was too much talk at the fest about Bush and republicans. Hey, did y'all think you had to talk about that stuff because you were in A2? We have some fanatics here, that's true. Most of us are just trying to keep it together enough to get through the day intact. So y'all, just let it go and play your music. Well, random and *long*! g'night. g'morning?
Update? (sheesh, was that enough or what?) Okay, after a few hours of sleep (literally), here are some of the good things about the concert. The GG gets patron seats so he can get his name -- "Bill and Bob Courtois" -- in the program. But they also come with food and wine in Rackham before the show, food backstage at intermission and 5th row seats front and center, so you can see the instruments and people's faces right up close. I saw people I usually don't see much of. We ate with the other Bill and Anne and another couple who are anxiously awaiting word from colleges just like us. No one behind me put on deoderant during the show. No one in front of me made out with everything that moved, pausing only to yell across the venue that "the band so makes me want to be a lesbian." Now onward into the esoterica of photoshop, plug-ins and powerpoint presentations.
Mon. January 31: Mouse and friends to Mom: "Where can we go?"
Mom to school district: "Why, why, why do you have so many school days off in January? Between snow days and MLK Day and final exam week, it seems like these kids are *never* in school. There is not that much to do. It is cold out. The crusty, grimy, yellow-splattered snow does not invite frolic. Heck, I don't even want to ski on it! The mall is boring. Start the second semester already. For some of us, it's the last semester."
And kids, these are the places that my vee-hickles are programmed to go without me steering them: Westgate Kroger, Jackson Rd. Meijer, Saline Rd. Meijer, Whole Foods, WCC Gunder Myran building, Maple Village National City branch, Stadium Blvd. post office, Office Max, A2 Academy, Clonlara, STAC, Lydia Mendelssohn Theatre. That's about it. Sound exciting? I thought not. (Oh, yeah, how could I forget the Jackson/N. Maple Shell Station?)