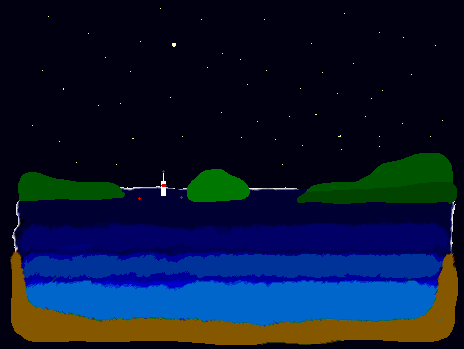 July 2004 Birch Pt. Beach Blog
---
Thu. July 1: Today is an important day in YAGgie history as it is the day that the long-lost TK returns.
And if y'all don't hear from me again, it's because Daddy Swan has beaten me up, knocked me out of my kayak and drowned me.
Fri. July 2: Octogenarians hot over 'doddering' remark. Hmmm, "doddering" isn't *exactly* how I'd describe *my* octos. Grumpy, cranky, stubborn and obstinate sometimes maybe. And they spend quite a bit of time misling and being misled (we won't mention any of the droven-ins). And there is a fair amount of creakiness and general confuddlement and occasionally some stob-stubbing. But here's what one of my favorite octogenarians had to say yesterday: "You tell daddy swan that the commander said to stop bothering my fledgling!!!" Doddering? I do not think so.
Sat. July 3: As fate would have it, about a half hour after I wrote what turned out to be a rather inappropriate post yesterday, Elizabeth came out of her room with the phone in her hand and a sort of worried look on her face saying, "Mom, Grandma's on the phone." And it was indeed the commander with the sad news that my uncle Don Finlayson had died following surgery. Don was retired from a very long career as a popular, highly respected doctor in Sault Ste. Marie and had been a long-time vocalist with the Central United Methodist Church choir there. Until very recently, he enjoyed good health and led a very active life taking care of Katie, his wife of 61 years (who died in April), participating in various service organizations and traveling to visit his children and grandchildren. "Doddering" would most definitely not be a word anyone would ever have used to describe Don. Pictures to come, my photo archivist is in transit today.
There was also good news yesterday, namely that Valdemort received her acceptance into the Michigan State University marching band! This probably means that I will have to force myself to attend a football game sometime next fall ;-)
And last of all, this day marks the day that the GG and I have somehow managed to make it all the way to 22 years. Who hit fast-forward?
Sun. July 4: I'm sure everyone is just dying to know what we did to celebrate our 22nd wedding anniversary and I'm here to tell you that skunk-spotting was the highlight! We had a long, fun day of kayaking and attending a party at our niece Sheila's house in Waterford (all kinds of babies) and arrived home just after sunset. Mouse was out at the fireworks somewhere and Liz was out of town for the night and after putting a load of laundry in and checking my email for the latest news from the Great White North, I made cocktails for the GG and me. I had planned to take my drink outside but the GG was playing with his iMac and I was just tired enough that I got waylaid by the blue chair instead. After a few minutes we heard a "trrrrrrr, trrrrrr" sort of noise in the woods that the GG thought might be an owl, so he went outside to check it out. And immediately came back inside saying, "look out in the back yard!" There was a *mass* of black and white fur skittering around the yard grubbing for bugs or whatever. Mama Skunk and 8-9 babies. They were CUTE (too dark to get a picture and didn't want to disturb ;-). Eventually the skunks disappeared and all the Ann Arbor patriots (including us, of course) started shooting off their fireworks so the owl or whatever was not heard from again.
(Today's blog entry is brought to you by: Mel's Fireworks Life Should Be a Bang!! Turn left at the "Brimily" light and and watch out for the sheriff unless you plan to explode your rockets on the Res!)
Mon. July 5: Rolled girls (Mouse, Lizard) into the car and left A2 about 7:30 AM. Smoooooooth driving all the way up the I75 SUV Speedway, Lizard slept until Grayling, Mouse slept longer. Rest area just south of Gaylord, had to dig out polartech so y'all can guess what the weather is here! Kept talking about stopping for gas (Gaylord, Indian River, Mackinaw City, St. Ignace, Rudyard) but never did, so gas is the first item of business here. Pulled into parking space at about 12:15 and experienced the first quotable quote of the summer:
"Does anyone else ever do that?" "Do what?" "Think about The Phantom Tollbooth all the time."
I suppose that's preferable to thinking about volcanos all the time.
Tue. July 6: If you come across dirty dishes, wash them. If there are dishes in the drainer, dry them and put them away. Thank you, the Co-Secretary-Generals, Birch Point Beach Chapter #1924, Dish Processors Union.
Got the kayaks out this morning and went along the shore over to the old crib and beyond and back, etc. Did not encounter the cylinder. Inadvertently played a variation of "floating head" with Ernie: got into my kayak facing the shore and back-paddled away while Ernie looked at me in a puzzled way, took a couple tentative steps into the water, then high-tailed it back up to the cabin. Went to town on errands: gas, Happy Hooker yarn store and Glen's Grocery Store. Three Fin contingents ate at Penny's Kitchen for lunch today, first the GB Fins and octos, then us (Lizard, Mouse, mom), then the other fins (Jan, Pete, Sandy, Suzie, Mac, Lizzie) came in. Jim/Karen left this afternoon. Walked the beach with an umbrella this afternoon, watched some crows (or ravens or whatever, wish I was better at bird identification) that Ernie found for at least a half hour. Still rainy and cold. Pengo is making stir-fry.
Background noise: the Commander talking. Her mind is getting "pretty crowded."
Wed. July 7: A full obituary for Don is in the Sault Evening News today and let's see what else...
the guys arrived to work on garage and have been out there all day
walked the beach with Betty and her entourage (a cloud of mosquitos)
went to town (girlz and vMom, dogz stayed home)
Walmart (cheep boom box for cabin and dog food)
Happy Hooker (expensive wooden knitting needles, double-pointed, size 2 or 3, I forget which)
Alberta House (Anny Hubbard print (no, I didn't buy it))
Fudge du Lock or whatever it's called (fudge, what else?)
Locks (bathroom, mainly)
Clyde's (annual grease quota)
graveyards (Riverside and Pine Grove, couldn't find Fin graves (!) will have to go back...)
took a shovel for a beach walk and dispatched some dog crap (courtesy of Ernie) and an odiferously decomposing loon into the woods
talked to Brigid & her kids and one of her grandkids
at least 3 people are asleep here at the moment but I am not one of them
it's cold enough that I borrowed Macbeth (sweatshirt) from Liz again
talk earlier of heading up to the graveyard by Spectacle Lake overlook -- will we get there or not? Stay tuned.
And that's the news from The Great White North!
Thu. July 8: Click for Pengo Janetto Cookie Tester Penguin Hoosh's Mexican Brownies. And now the news from The Great White North.
Drizzly, chilly, uber-mosquito-ey this morning
Squelched a friendly little early morning dog set-to so as not to wake up triplets, etc.
Mosquitos disappear a few feet from shore, yay for kayaks
Have completely absconded with Macbeth now and Liz doesn't want it back until it's been washed
Glen's (a few groceries, no cherry limeade!)
NCC ATM (cash, what else)
graveyard (Pine Grove again, to figure out where Fins are -- success this time)
Kayaked out around Guano Island with Valdemort before wind came up, setting off seagull brou-ha-ha (Indians now have permission to *shoot* cormorants!)
Ernie snuggled up to Liz for a nice nap but did not drool on her baby blanket
More mashed potatoes!
Mouse solo mission to Alberta House (earrings)
A mission of stealth (shhh!)
A mission of reconnaissance (along the Ganzhorn Gash)
In and out and in and out and in and out ad infinitum ad nauseam! (dogz, sheesh!)
Dog fur!
had to give Mouse my foot about a thousand times as she designs my custom-made socks for my funny-shaped feet
All in all, not a terribly exciting day, as y'all can see.
Fri. July 9: Glork!! The YAG administrator is out of contact today. She *forced* herself to leave the chilly, drizzly, mosquito-ey beach in The Land of the Ice and Snow to return to The Land of Heat, Humidity and Traffic. We are toadily roto after a day of driving via Petoskey for lunch and shopping with all the white pants people. (I didn't have my white pants so I wore my fancy blue plaid skirt that the commander bought me that keeps getting stuck in my underwear :-) BTW to the commander: fun was had and money was spent in Alanson.
Sat. July 10: Overheard on Carbeck Street (approximate words):
Do you know where the glue gun is?
[head in hands]Why do you want the glue gun?
Do you know where it is?
Give me about 2 hours, *maybe* I'll be able to think where it is. What do you want to do with it?
Glue paper together.
Why do you want to glue paper together?
I wanna make a firecracker.
Don't blow yourself up, please. On second thought...
Sun. July 11: Rrrrraaaarrrrrr! I do NOT want to go to a Saves the Day concert. I do NOT want to drive down to St. Andrews Hall Tuesday night!!! After 45 minutes of holding on the phone and arguing with the imbeciles at Ticketmaster, I think I will have to take a walk so that I do not spontaneously combust. What the heck kind of nincompoop figures out these ticket policies anyway?
Mon. July 12: Hot, humid, swampy house. Hot, humid, swampy car (grrr). Hot, humid, swampy camp. Are we having fun yet? Actually yeah, it was a pretty good day (knock on wood) at the YAG Summer Theatre Academy. And that is all I have to say today because I have had no time to *think*, except about how hot and sweaty I am and how un-administrator-like I look :-)
Tue. July 13: BLARG... Is it the heat or is it a bug or is it the coffee & bagel I had yesterday for lunch when I *thought* I was starving? (waaaay too much to eat in this heat...) Well, it's not that bad and it isn't slowing me down much anyway but then not much does... But today was a comedy of errors. Probably the worst thing that happened was when I narrowly escaped from STAC to come home and take care of a long list of computer stuff and errands for theatre camp and arrived only to realize that I did not have a house key. My house key is either at the bottom of the Urine River or it fell out of one of the holes in the jeep, don't even bother to ask why I had been carrying it singly... Anyway, I had forgotten to get one of the kids' keys and there was no key in the hiding place and I knew if I went back to STAC (to get one from Liz) I'd get shang-hai'd by the crisis of the moment, so I went over and bothered Mouse at Flying Sheep for hers. First stop tomorrow? Stadium Hardware's key machine!!!
Wed. July 14: Yikes! This is the day I can finally register for classes. Am I really ready to do this? Will the classes I want already be filled? Oh, come on, Volcano Mama, you got up extra early just to do this first thing in the morning. Just type in the course numbers and hit the blasted submit button already!!! Thank god it's on-line registration. And, hot damn, as of about 7:15 AM today, after waiting about 5 seconds, I am successfully registered for my first choice in time slots for all three courses:
| | | | | |
| --- | --- | --- | --- | --- |
| Tuesday | | 9-11:55 AM | | Designing User Experience I |
| Tuesday | | 1-3:55 PM | | Web Coding I |
| Thursday | | 9-11:55 AM | | Web Imaging I |
This schedule allows me to:
do Monday coffee
leave for Houghton Lake on Thursday nights when the GG takes Fridays off
work for YAG in the evenings
take my lizard to Siberia for a long weekend this fall when she's lonely because her friends have left for *their* study-abroad programs and she hasn't left for *hers* yet
Yes, I probably *could* test out of some of those classes. I'm operating on the assumption that there'll be something worthwhile to learn. And I never did have any damn study skills, always slid by with about a 3.6 without studying before >:->> I may need to muster some up now. Who knows? This feels like jumping off a cliff. The worst part will be presentation-type things and group projects.
Thu. July 15: A lot of people have questions about Elizabeth's upcoming study abroad tour in Spain and there is apparently some misinformation floating around. It's okay, I can't concentrate on much more than what's in *my* own backyard either and about all that's out there at the moment is Henry the rabbit and a big skunk family, besides weeds, that is :-) So, click here for information about the whole thing. My information is mostly from stuff the college sent us. Elizabeth knows more about it all than I do. So, if you have more questions, you can email me and I'll pass your question on to her.
Fri. July 16: "It's not proper cleaning, I just shoved everything into the laundry room." My sentiments exactly. Oh wait! I don't *have* a laundry room to just shove everything into -- laundry dungeon, maybe ;-) just throw the whole lot down the stairs, please!
OK OK, If you don't say the first sentence (the one in quotes) in a British accent, it doesn't make sense. Actually it prob'ly doesn't make sense to anyone who isn't acquainted with Our Favorite British Theatrical Director anyway :-)
Sat. July 17: Dredged up from the Carbeck Landfill dungeon this week: 'One day wen i came to school i was The first one thar but war was my techr's hed it pop'd of like pop corne "hay" "chelse" "war's" "the" "techr's" "hed" "i" "don't" "now" chelse sed "oh" "thar" "it" "is" "up" "thar" hung up thar ut oh i sed it came of.' -- story by Elizabeth Frances Courtois, age 6, Mrs. Winchester's 1st grade class, Haisley School, 1991. Way to use quotation marks and apostrophes, Liz! ;-)
Sun. July 18: It was never in my life plan to be driving around in an old rusty jeep with 2 kayaks on top and pulling a trailer. But somehow I ended up married to the GG and in addition to old, rusty, rattletrap vehicles, he has a weird affinity for old trailers and y'all know we're kayakers! :-) And then, along came YAG and I am now a trailer driver when we need to move set pieces around town.
I was really nervous about trekking across town in that contraption today. The reason for the apprehension was that I was told that the lucky-shucky did not work, therefore the lights on the back of the trailer would not light up. Hmmm. I guess if I don't have to stop or make any turns, no one will notice, will they? With Mouse's help, I got the trailer connected to the jeep and slowly and carefully started off on my journey to Paula's office and then the uber-shack over in Ypsilanti.
I made it there and back without seeing ONE cop! (I *did* see Mouse, Goose & TK driving around in my Honda.) I really think that the reason I didn't see any cops was that I encountered a good omen early in my trip. I was turning left from N. Maple onto Dexter and Lo and Behold! there was a station wagon turning right from Dexter onto N. Maple with TWO KAYAKS ON TOP: GREEN AND PURPLE JUST LIKE MINE! KAYAK WAVE!!!
I was proud of myself today but not TOO proud. I still cannot back up the jeep & trailer worth you-know-what! That's why the trailer is still in the street instead of in its proper place at the head of the driveway :-)
Mon. July 19: Wazoo! Today, I am able to update my website and get my email via my back yard. That's roight, folks, we're now wireless in the landfill! It's addicting. (Thank you GG, now can you please magically get me an a/c car again?) We have Jim Courtois Jr. here this week who's attending a computer camp on the UM campus. We're still running a theatre camp. The art fair is this week. Yiiiy is the word here but we *are* having fun. It's only Monday, it's a quiet night here in the Landfill (after a whipped cream night -- don't ask, I was asleep and didn't hear any of it) but it will heat up soon, calore, picante, and every other possible definition of "hot" :-)
Tue. July 20: Life is a fire drill around here about 98% of the time, so that's why we have firemen like Donny. Only problem is, he's in Kandahar...
Wed. July 21: Well, all I have to say today is, can I please just cry? God or whoever, I sure hope tomorrow is a better day because this one pretty much sucked (excuse my language). It is a good thing I don't have too many of those.
Thu. July 22: Today marks the end of the 2004 parade of Fin & Courtois demi-centenarians that started on January 16th when I spent my birthday skiing and throwing buckets of water down the Houghton Lake toilet: Me, the GG & his twin, Pooh, now Mark Axe & Aimée Nassoiy. You guys have a fun birthday. You're 50 now, you can start doing and saying whatever you want. Go for it. And then just get on with it. It ain't over yet.
To those who cared, yes, today was a much better day. Much less drama and much more humor. Children and adults behaved themselves even though water balloons were thrown. So far anyway, it ain't over yet ;-) (Oh wait, I just said that, didn't I?)
Fri. July 23: From my summerYAG fortune cookie: "Peak performers concentrate on solving problems rather than placing blame for them." AND HOW!!! My lucky numbers are 13, 15, 21, 41, 44, and 48. I have this funny feeling that truck-driving is a part of my future but it is *not* going to happen this weekend. And, last but not least, empty ice cream cones (i.e., no ice cream) are really good with lemonade if you can get them both in your mouth at the same time and the lemonade sort of melts the cone.
A little disclaimer for Wednesday's blog: the badness of Wednesday had *nothing* to do with our nephew Devoner (er, Jim, I mean ;-), who stayed with us this week while attending a tech camp at the UM. It was great fun to have him around and we enjoyed hearing his observations about life. He was also very good at fending for himself which was fortunate, because you have to be to survive around here, even when we are not immersed in the madness of a theatrical tech week or day camp.
Sat. July 24: The GG told me I can't blog about what he's been up to (it basically involves having too much fun), so here's my summerYAG bio: Anne Courtois is a 113-year-old 79th grader and has been involved with YAG ever since her kids dragged her into it. She is a musician, fiber artist, computer geek, skier, hiker, kayaker, and beach-sitter who still doesn't know what she wants to do when she grows up. She has given up on any grand plans to change the world and is happy if she manages to get through the day without major mishap. She has been married to the GG for more years than she can count on her fingers and toes and her kids are Lizard (19) and Mouse (17) who have each been involved in more plays than they count on their fingers and toes. "YAG is always more than just a great performance!"
Sun. July 25: We're goin' to the robin! We're goin' to the robin! We're goin' on Pooh time so don't expect us to get there particularly early >:->>
Mon. July 26: We made it. It was a hot trip. And now the news from The Great White North, where this morning it was 48 outside and 55 inside. (click on the links for pictures ;-)
We (GG and me, independently and together) kayaked a lot today, including this adventure out in and around the shipping channel.
Mark biked to M123 and back. Pooh biked around the vicinity of the Birch Pt. Loop.
Yes, it was a beach day.
We (beach bums) planned an outhouse-theme funeral complete with appropriate music.
Harry told a funny joke that I can't repeat here and also provided the beer "lunch".
Nuclear Dave joined the kayak tipping club (yours truly is the charter member).
Some of us swam. It's warm ;-)
We are geeks, we have to measure things.
This dial-up ISP ftp's pictures to the web a *lot* more quickly and nicely than Merit does.
I can't think of anything much else and that is a *good* thing :-)
Tue. July 27: (Forgot to include in yesterday's news that nDave, vDan, and the GG went on a kayak expotition to the Pickle Finger.) In today's news:
Temperature at 7 AM: 48 inside, 55 out and turned into a pretty good beach day.
Mark Axe's bike ride: Pendill's Creek Fish Hatchery and back (50 miles)
I kayaked around into Mosquito Bay and into the little stream from which I emerged with a halo of mosquitos (also saw an eel or something).
We received this picture of a button blanket from Aimée out on Lopez Island.
I compiled a monstrous video order (62 videos) for YAG, then paddled over to Mosquito Bay to meet up with the GG, narrowly escaping the clutches of the beach patrol along the way.
Pooh, vDan & nDave went to town to the book store, craft store, Mooney's ice cream & Alberta House.
Mark & I sat around on the beach and I actually dozed off for a short spell.
The commander dispatched Grandaddy to take a head count for beer. When Grandaddy did his count there were only 2 (me and Mark) but by the time Grandaddy returned with the beer, the count had become something like 8. People around here can smell beer on the beach a mile away and don't *ever* blow the whistle :-)
Lots of nattering and other intellectual conversation was had including the usual veering off into bathroom humor and I don't ever want to hear about that blasted pee bottle again.
The commander ordered me to "take care of her chair later."
The garbage somehow made it to the top of the hill with a minimum of fiddly-doodling around and swearing.
Donna Schell got her ears pierced.
Wed. July 28: d-d-d-d-d-d, d-d-d-d-d-d, Service Engine Soon d-d-d-d-d-d. Okay, what the heck is going on with this piece of crap now? I'm sitting here with a bunch of groceries and 2 bags of ice and I forgot my cell phone and I'm not sure this POC (vehicle?) will make it back to the cabin and I know the octogenarians will be at "Grandma's-other-house-the-real-house-where-she-lives-some-of-the-days," so I'll just drive it there and dump it for now. But I can't just park it there because they're having the driveway done but fortunately the neighbor said we could park cars in his driveway. I got a ride out with the octos and had a great time trying to drive the Tracker from the back seat but we did make it here. Well... So... What was it? It was a goddamn ('scuse my language, please!) distributor cap issue. I just recently made the GG take my car into Naylor Chrysler in A2 to get a goddamn (language again!) tuneup done and WHY DO I HAVE DISTRIBUTOR CAP ISSUES???? Grrrrrrrrrrrrrr. So, that's fixed and my boyz at Chippewa Motors, who *remember* me from last summer (!), are also willing to "re-a-charge (right, Harry?) my air-conditioning, which Naylor refused to do (!) but I am wondering WHY BOTHER? because.....
Kevin Liu, where are you?
Rrrrr. Kayaking & swimming aplenty, beach day, Mark Axe 50 miles to Pendills Creek again, Pooh 11 miles around the Birch Pt. Loop. Beach Day! Hot! Piedmont "girls" were playing "upwords" in the water, complete with table and chairs, etc., and a boat wake came along and sent them scrambling and screaming up onto the shore. We'll eat eventually :-)
Thu. July 29: Relatively eventful day, early morning temperatures 57 inside/64 out, Mark took a day off biking to do laundry, and, let's see, what else besides swimming and kayaking and all the usual stuff?
Went to town to visit the Niña and just about left the GG there with the crew. Click here for the Columbus Society.
Met some penniless octogenarians at Penny's Kitchen and fed them lunch or, in Grandaddy's case, a cookie. After I paid for the food, the commander conveniently found her purse.
Lost the GG in Walmart, which was crowded with Walmart-y type ladies and their screaming kids. I wanted to get outta there but just when I was about to have them page the GG, he showed up.
Hung out on a very southwest-windy beach with Mark and had to chase after my kayak which rolled down the beach in a big gust of wind.
Pooh cannot move her neck today. She's been having too much fun.
Cozy Inn for fish tonight. Grandaddy came along reluctantly but he had a good time. We had an old fogey table and a kid table. I sat at the kid table.
Liz reports that they are yet again rearranging the Westgate Kroger and she/Ryan should be on their way north now. Hope I can stay awake until they get here... Will have to go kayaking or something.
Fri. July 30: Eventful enough day that I didn't even get my blog done! What the heck did we do yesterday? Various people kayaked and there was a lot of beach-sitting. Liz and boys hiked at Naomikong. Betty took all the girls (except Liz who was keeping all the boys in line) out to lunch at Zorba's. Pooh still could not move her neck :-( Kids swam and made a beach fire at night.
Sat. July 31: I have not been able to get the toad out of the green kayak.