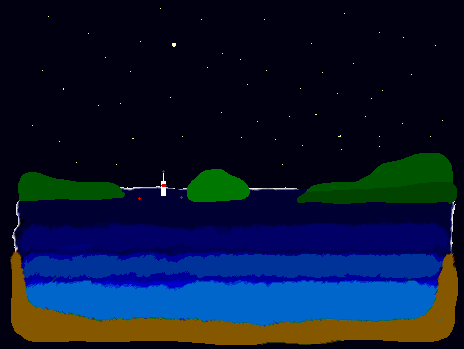 March 2004 Birch Pt. Beach Blog
February 04 | April 04
<!/a>
---
Mon. Mar. 1: Highlights (or not?) from a fun and eventful weekend:
Drove to Kalamazoo with Mouse Thursday to drop her off for an overnight with her sister. The practical Elizabeth looked at Mouse and spotted something I had been oblivious to. "Mouse, where are your socks?" "My socks are all dirty," said she. Liz's no-nonsense response was, "Well, you'll have to use some of mine because we're going to be walking around *outside* at *night*!"
As I was getting ready to drive over to Kalamazoo with the GG on Friday (yes, again!), I wrote at the top of my blog that I would be roadtripping with a mad scientist, engineer type person. That statement was fulfilled when I got into the honda and saw a weird electronical instrument sitting on the passenger seat. A "multimeter". He played with it all the way over there and brought it with him to the play we went over there to see.
Watched the play The BFG (remember that book, Grandaddy? The "F" stands for "friendly", right? ;-) It was wild and way funny! Lizard Breath played a snozzcumber, among other roles.
Chadwick the Guinea Pig was here when we got home that night. He gets to stay here for a week while Western is on spring break. I like Chadwick! He's cute!
Went to a party at Portage Lake Saturday night where we had a huge bonfire on the ice and the host put on a spectacular fireworks show -- think 4th of July, not Mel's-life-should-be-a-bang-turn-left-at-the-"Brimily"-light-and-watch-out-for-the-sheriff-if-you-don't-plan-to-launch-your-rockets-on-the-Res. And yes, the police did come, but it was a long story and a non-event.
Walked along the Huron River with the GG Sunday morning while gabbing on my cell phone with my favorite British theatrical director who has a hilarious knack for catching me in odd places: kayaking, skiing, hanging around The Great White North with my octogenarians, etc.
Tue. Mar. 2: Yesterday:
breakfast with the Dean
errands all over town
spreadsheets, word processing, web updates, graphics stuff, papers and emails back and forth with various people
play auditions for 8 to 12-year-olds
drive down to Greektown for dinner
walk around a casino (!) for over an hour (yeah, I'll blog about casinos someday, the short story is that they make my eyes glaze over...)
avoid encounters with various urban street people quite unlike the hippie types most frequently encountered in A2
retrieve Mouse from a concert she attended with a contingent from Kalamazoo
drive home to A2
try unsuccessfully to get just a little bit more computer work done
play with neglected guinea pig
So, this morning, after I washed the cigarette smoke out of my hair & did my powerwalk, I... could... only... do... one... thing... at... a... time... and that was after 3 cups of coffee, which is 3 more than I have in a non-social situation. Keep on trucking.
Wed. Mar. 3: Tina: "there are 15 rehearsals until The Jungle Book tech week." twitch... And Don Quixote goes up ONE WEEK after The Jungle Book. twitch... And we do not have a producer for The Jungle Book. twitch... And I have 3 major mailings to do in the next couple weeks. twitch... twitch... twitch...
Thu. Mar. 4: After yesterday (don't ask), all I want to do is go cylinder hunting. Oh, wait! I'm afraid of the cylinder! Who wants to go with me? Say what? Whaddya mean, the ice is not out of the upper Saint Mary's yet? Damn!
Fri. Mar. 5: CONTRATULATIONS ELIZABETH! She gets to study in Spain next year. Um, duh, I forget where in Spain... (Yeah, I did just change my blog in the last 5 minutes, enough time to rip through the Doppler Fantaisie Pastorale Hongroise, 64th notes and all >:->> This is much more exciting than a YAGbabe breakfast at Cafe Zola, although that does have its moments ;-)
Sat. Mar. 6: I am going to SCREAM! Gr-r-rrrrROAR! (And this is not because I had to chase Chadwick all over the living room this morning or because all of my scissors have disappeared again.)
Sun. Mar. 7: Searched back through the 726 messages currently in my inbox (yeah, I know) and found the email that said Lizard Breath was going to Cáceres.
Mon. Mar. 8: This site (ababsurdo) is messy, ugly, cluttered and disorganized and I am sick of how it looks. It's kind of like my house ;-) So, I will be Web Mom today but don't look for major changes in the near future. It's hard enough trying to find an interesting enough "blog" every day, at least without embarrassing anyone ;-) But! You can email me now via the picture in the top right corner.
Tue. Mar. 9: Car guys and Al today. Y'all better be really nice to me! (hmmm... either they sent Al to charm school or they've gotten a new Al.)
Wed. Mar. 10: Jim: "Tomorrow - Wed March 10 is Sam's 11th birthday!!!!! maybe you can post this pic on abab...." Yeah! And with luck, I might actually get it out there before his birthday is over! How did I ever think I had time on my hands as recently as Monday? Oh yeah, it's because I'm so disorganized I forgot everything I needed to do this week. Attention Deficit Disorder? Twitch...
Anyway, Sam, the talking dog, is now 11. The GB Fins adopted him as a puppy from the pound, where he had landed after a couple weeks of wandering around on his own (hey, you guys correct me, my memory is pretty foggy about this stuff). When the Fins first encountered him, he screamed when they left. How could anyone resist? He soon learned how to say things like "I love Mom" and "Grandma" ("GrrMom") and I forget what else to get treats. I usually get to take care of him for a week or two every summer along with various teenage girls and some creaky old octogenarians. He is almost completely out of my control but he always keeps careful track of the whereabouts of everyone in his pack including his car. He has tried to get into my bed with me (!) during thunderstorms and if he's looking for me, he's smart enough to look up through the kitchen window because I am more often than not slaving away at the dish-processing station.
Well, that was a pretty lamely written blog but I am digging myself out of a big hole today so maybe I'll edit it later. BUT HAPPY BIRTHDAY SAM, MY FAVORITE DOG! (Oh, except for Ernie, of course.)
Thu. Mar. 11: I am being really good today, so be nice to me! :P
Today began bright and early when I realized someone was in the bathroom at 4 AM and it was not me or the GG. First I entertained the idea that the perpetrators of some recent neighborhood "home invasions" had gotten in the house and were using the bathroom. But, no, those people have been doing their jobs during the day (another blog, another day ;-) Then I realized, hey, it must be Mouse. Another mother might just go back to sleep but in the history of our residence here on Carbeck, if a kid is in the bathroom in the middle of the night, it usually means they are sick! So, I stumbled over to the bathroom and asked, "Mouse? Are you all right?" Mouse: "Yes, I had to finish a project. Don't wake Dad up." Okay, my kids are serious night owls but 4 AM on a school night has got to be a new record, at least for high school, college I probably do not want to know about. So, when I got back from my morning walk at around 7:30, I woke her up, got her some caffeine, drove her to school and I am going to drop the jeep off down at the school a little later and walk home so she'll have a car down there. I am so nice :-D
A little later I was on my daily trip thru the Kroger U-scan and there was an elderly lady who was getting flustered about operating the U-scan and the cashier kept having to stop and help her and people were having to wait and acting a little bit disgruntled. And then I realized that the elderly lady was my neighbor. My order didn't have anything in it that required cashier intervention, so I finished it up fast and went over and grabbed her shoulder and asked, "How are you doing?" She rather nervously said, "Well, not very well, I guess," so I helped her get through the rest of her big $4.68 order and figure out what to do with her credit card, etc. I hope that makes up for all the times I have just about run elderly folk over with my shopping cart! I am such a geek :-D
This is a good day so far but I suppose all it means is that there's a beer truck or Dracula or a volcano or something waiting around the next corner just for me.
Fri. Mar. 12: Well, that was a little weird. A car pulled into the driveway and somebody rang the bell. I wasn't expecting anyone. Mouse's rehearsal isn't over yet, she's probably not coming straight home and this car definitely did not sound like the jeep, even now that the jeep has a new muffler again.
So, I go to the door and there are these two sleazy middle-aged guys standing there with a package of 3 rolls of paper towels. I say, warily, "Hello?" and they start into some spiel about they are doing some advertising for their new business, the name of which I did not catch because I was preoccupied with deciding which weapon I should use to bounce their butts off of my front porch. Advertise your business at my house?? Um, I do not think so! And wtf are the paper towels for? Do you guys know how filthy my house is right now?
I finally cut them off, tersely, with, "I'm sorry, I'm busy." And they left. And I stood there watching them because there have been "home invasions" in our neighborhood recently and I wondered just what the heck they were going to do next. Were they really driving around pulling up in every driveway for their little door-to-door advertising scheme? No, they were not. They drove slowly down the street past the Burkes and the Gouldings and the guys down on the corner. They s-l-o-w-l-y turned left and pulled up in another driveway. How are they deciding where to stop?
Okay, if you are a Brownie or a Cub Scout or a student at one of our neighborhood schools, I will buy stuff from you. In fact, I will sometimes even buy stuff I don't really want.
I will not buy stuff from kids that are dropped off from some imaginary school in Detroit or somewhere. I will not buy stuff from sleazy looking people of any age. I will definitely not have anything to do with the Mormoms or Jehovah's Witnesses or any other religious proselytizers. I will not "sponsor" you in some imaginary contest. I don't want to have that tree taken down. I won't sign your petition. You cannot "demonstrate" your vacuum cleaner on my carpet -- I already have 4-5 vacuum cleaners. I do not want to hear your political spiel. And I don't know what you guys were doing with your little "advertising scheme" but you can take it somewhere else.
I used to have a "no solicitors" sign on my front door. But it didn't really do any good because I don't think any of these people have the word "solicitor" in their vocabulary, or maybe even the word "no".
Sat. Mar. 13: D-r-r-r-r ... d-r-r-r-r ... d-r-r-r-r. Hmmmm, it's ba-a-ck!
Back in the day when the octogenarians were septuagenarians and still driving to Megalopolis occasionally for shopping at Borders/Leidy's/Hudson's or flying across the crick or other adventures:
Me: "When the woodpecker wakes you up..."
Grandma: "Oh, well it might wake us up."
Me: "Mom, the woodpecker will wake you up!"
Is all of that a bit cryptic? Our fireplace has a metal chimney. Just about every spring, some woodpecker insists on using it as a pecking board or whatever you call it. It starts this up when the sun starts coming up, like 6 AM or so. It is loud! It wakes everyone up! It used to scare the bejeebers out of the kids when they were babies until we realized that we could see the bird from Mouse's room. After that, it was just a cute but noisy bird.
P.S. to yesterday's blog: Jim: "you need a 'Sam' around, that usually keeps the weirdos a couple of steps back further when they come to the door." Actually, I wasn't scared of them at all, but I am highly entertained by the idea of having a big noisy obnoxious dog greet scuzzballs at the door :-)
Sun. Mar. 14: I am a man. I can't find ketchup. Even when it's right there staring me in the face and my wife can see it from across the room without her glasses.
Mon. Mar. 15: From the March 14th edition of this week @ YAG, a weekly email publication from the administrator of The Ann Arbor Young Actors Guild to the board of directors:
Mon.
3/15/04
5:30-7 PM, Clonlara: JB rehearsal
Tue.
3/16/04
5:30-7 PM, A2 Academy: DQ audition
6-9 PM, Clonlara: CY rehearsal
Wed.
3/17/04
5:30-7 PM, Clonlara JB rehearsal
5:10 PM: JB parent meeting
Thu.
3/18/04
5:30-7 PM, A2 Academy: DQ audition
6-9 PM, Clonlara: CY rehearsal
Sat. or Sun.
3/20/04 or 3/21/04
CY rehearsal, details TBA
Sun.
3/21/04
3-5:30 PM: CY movie "nite" at the UM MLB
Just on the off-chance that there's somebody out there who thinks I might not have enough to do ;-)
Tue. Mar. 16: My brain is mush. I have done too much today and talked to too many people to sort anything out that's worth blogging about. Why am I friends with such crazy people? (Yeah, Sam, I know :-) :-) :-) (LizB, I'll get rid of the picture tomorrow, I promise. I just can't figure out what to replace it with tonight. All that's on my camera right now is pictures of YAGgies.)
Wed. Mar. 17: How's that for a change in picture? I was just gonna put some boring Ann Arbor March snow scene on there but then when I was going through the 86 email messages in my inbox this morning, I found this wonderful little spit happens trombone picture from my dear brother (sorry y'all, it's gone for the moment until I have time to make a popup). Well, 45 messages to go, then I have to check hotmail and the YAG accounts. Back to it...
Thu. Mar. 18: I am without wheels today! No, I do not need a ride anywhere. The only places I have to go until this evening are Faz's Pizza (don't ask ;-) the U-scan (every day!) and Howard Cooper (to pick up my wheels). I can easily walk to those places. Sorry, engineer boys, there's nothing exciting going on with the car, at least not that I know of, it's just the damn maintenance light. Duct tape, anyone?
WOW! Buy Honda! They had my car ready by about 10 AM. I walked over there to pick it up and the guy told me that -- at 50K -- the tires and brakes were still good. My van has 90K and I have replaced both of those things twice plus the A/C and, well, I'll make a list someday, it's long. He told me I was obviously not driving the accord very hard! So there, all of you who gasp every time I actually use the accelerator! Then he went to get my filthy, dirt-encrusted car and when he brought it up to the front he apologized repeatedly and profusely for not washing it because their car-washing service hadn't made it in today. I thought, "there's no point in washing that car anyway, I'll just be driving it over to the A2 Academy later today and, in this weather, it'll get muddy again." Apparently several people had already given him hell about not washing their cars! For christ sake, people, it's just dirt. GET A LIFE!
A while back, one of my kids asked if any of our ancestors had come thru Ellis Island. I told her I'd be really surprised if any of the Finlaysons had come thru there because we were Canucks from Scotland who initially arrived in Canada in the mid-19th century. I wasn't sure about the MacMullans though, so I forwarded the email to Grandma Fran (the GG too, but he ignored it, he *is* busy :-) Eventually, Grandma looked up some stuff and told me what she knew. As it turns out, there may have been a Lathers (Grandma's mom was a Lathers) who came thru Ellis Island that we can't quite document but there was also a Lathers-by-marriage (grandma's grandmother Julia Green? (mom, edit me!)) whose ancestors apparently came on the Mayflower, which I never thought I was even remotely connected to. I am happy and honored to be able to claim that my origins are from the Sault Ste. Siberia/Birch Point Beach Fin riff-raff plus the Detroit-area Macs :-) but, for those who might want to pursue this stuff further (Fin/Mac/Courtois/whoever), here are links to Ellis Island and The Mayflower.
btw: all that geneaology stuff was just *one* item on a long list that my octogenarian mom had prepared for a telephonic conversation! "Well, here, just let me get my list." Oh, boy, here we go... :-) :-)
Fri. Mar. 19: 12" screen G4 powerbook. Is there anything more?
Sat. Mar. 20: Four plays:
A Connecticut Yankee in King Arthur's Court, March 25-57, Scarlett Middle School, asst. stage manager
Twelfth Night, the next weekend (?), Commie High, actor (Maria) (hey, it's a school play, I actually don't have to do anything about it, including worry about it! yahoo!)
The Jungle Book (or whatever the title has gotten to be), April 29-May 1, Tappan Middle School, co-stage manager or something like that
Don Quixote, May 7-9, Lydia Mendelssohn Theatre, stage manager
Think that's enough extra-curricular activities for the spring?
Sun. Mar. 21: Okay, I have been the head cook and bottle washer around here for 20 years (yeah, that's how long we've owned this rat-hole) and I slaved away for a few years before that on Jackson Ave. and N. Seventh St. I want a promotion or a raise or a sabbatical or a vacation or I don't know what! I am tired of food and thinking up stuff to cook. The only reason I am not tired of the Westgate Kroger is because it is just about the best theatre in town, I meet men there and I love the u-scans. So, *please*, people, tell me what you want to eat and I will *try* to cook it for you.
Mon. Mar. 22: So, Double Trouble headed out the door this morning to set off on their adventure to Toronto. Old Tired Dumb Mom thought about asking, "Do you have your passport?" but decided not to for fear of having her head bitten off. An hour later, Double Trouble (or one half thereof) came bounding back in the front door, "Guess who forgot their passport?" No, they didn't get all the way to the border. They had to get an oil change and do some other stuff in A2 first and only got 10-20 minutes down the road. Sheesh! I hope they make it!
Tue. Mar. 23: Urgent message: Don't put your car seat back!
Paula: "Anne, if you didn't put the seats back in your van, can you be here at 2 o'clock to load a platform?"
Anne: "Sure! I did put the seats back in but I'll take 'em out again and I'll be there." (Yes Bill, I can get 'em out by myself. I ain't no weakling!)
As I am driving off in my car to run a pre-set moving errand, I suddenly think: "Hello, I am driving my honda accord!" No room for platforms! And the van is incarcerated behind all of the security crap that they've installed at the EPA so I can't really get to it to trade cars.
This play will go up on Thursday!
Wed. Mar. 24: My tech week life:
Today
Tomorrow
shower & powerwalk
shower & powerwalk
drive Mouse to school
drive Mouse to school?
coffee w/ Marci
cheerios
dbf stuff for rwj
dbf stuff for rwj
bank: safe deposit box
bank: change for CY
update web pages
update web pages again
CY program
CY program
make program ad for commie play
mess w/ program ads for YAG play
miscellaneous CY papers and stuff
miscellaneous CY paper and stuff
email, email, email, email, email.....
email, email, email, email, email.....
powerwalk
powerwalk?
board meeting
write/publish board meeting notes
eat? cookie stolen from the Scarlett cafeteria (hey the board chairman did it too!) and yeah, thanks Jean for LaShish (spelling?)!!!
eat? hmmm, wonder what opportunities will turn up
I forget what else
who knows what crisis will occur
Thu. Mar. 25: And the answer is.... "Go a-a-alll the way down to the double doors. Go out the double doors and turn left. Go a-a-alll-most all the way to the door to the outside and turn left."
Fri. Mar. 26: Hey, Ms. Carol Shakarian, you rock! (Scarlett Middle School principal, former Forsythe Middle School asst. principal, MYA dean and much beloved MYA language arts/social studies teacher.) Scarlett is already looking better since the last time we did a play there. I know you will transform that school! And it was great to see you again!
Sat. Mar. 27: So, now on top of all the other hats I wear as the Administrator of The Ann Arbor Young Actors Guild, I am the Trashmobile Driver! Other stuff I do, some fun, some not, not in any particular order:
Webmaster
Graphic Designer
Database Manager
Word Processor (long story ;-)
Communications Specialist
Box Office Manager
Musician
Technical Writer
Bulk Mailing Specialist
Master Listener
Copy Maker
Digital Photographer
Complaint Master
Note that I have no particular skill or formal training at any of this stuff except for "Musician".
Sun. Mar. 28:
| | |
| --- | --- |
| G1: | Garth & Sally |
| G2: | Gary, Kathy, Don, Jack, Bill/Bob, Liz, Jim, Suzie, Joannie |
| G3: | Scott, Sally, Sheila, Julia, Chris, Tim, Renee, Suzie, Don, Steve, Doug, Lizzy, Mouse, David, Dennis, Jim, Chelsea, Lacey Mae, Haley Sue |
| G4: | Nathe, Donna, Steven, Evan, Datura |
Mon. Mar. 29: Message left on voice mail late Sunday afternoon: "I'm going with Liz T to such and such a place and then I'm coming home and you will be gone and that will be wonderful and I think I will get Chinese for dinner." Guess who?
Tue. Mar. 30: Where do they *get* these jokers that they hire for tech support? All I was trying to do was change a domain name server. First, I navigate through a bunch of long menus, listen to a piercingly loud Mozart piano concerto for 3 minutes and get disconnected (!) Then, I navigate through a bunch of long menus, wait through I dunno what music and a whole bunch of superficial "we're so happy you called but you have to wait" type messages and *finally* I get connected with some damn would-be comedian. Sheesh! So, it's changed, supposedly. If y'all can't get to my website the next few days, you'll know they screwed it up and you'll know I'm sitting here in my virtual office going thru email withdrawal!
Wed. Mar. 31: If you are ever waiting for a package to be delivered, the absolute best way to make sure it will come is to leave the house because it will definitely be delivered while you are gone.