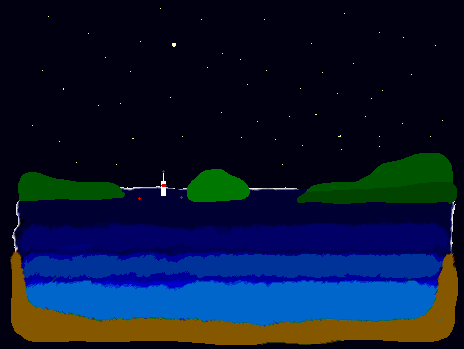 October 2003 Birch Pt. Beach Blog
---
Wed. Oct. 1: Walking outfit this AM: turtleneck, leggings, polartech vest, polartech socks, velcro sandals, GLOVES! Furnace: on. Car heaters: on. Front door: closed until glass goes into storm door. Snow predicted for west lower Michigan. Might as well just skip to the ski season at this rate.
Thu. Oct. 2: I hate Thursdays, at least Thursday seems to be the day I have the worst time with unstructured time & get the least done. But at least this one ended drinking cappuccino, taking pictures & laughing w/ Elena @ a T2C rehearsal :-)
Fri. Oct. 3: This day started out with a bang when I fell out of bed (don't ask! ;-) But it then progressed toward boring, just grocery shopping and a whole bunch of web stuff. Fortunately the GG went in to his office -- hey, I married you for better or worse but not for lunch!
Sat. Oct. 4: Today we -- reluctantly -- exchanged the screen from the storm door for glass. It seems too early & we'll surely get indian summer yet but it's too cold out for me to leave the big wooden door open & that makes it too damn DARK in here!!!
Sun. Oct. 5: Hiked @ Waterloo today, near the "Discovery Center" -- GG is still ranting because they renamed the old Geology Center & moved all the rocks that used to be in front of it. GG is now asleep & I am uncharacteristically tired this afternoon, not my usual nuclear-powered self!
Mon. Oct. 6: We have WOOD again! We burned every dern stick we had last winter. And last Thanksgiving, a BAT came inside on some wood & scared the %$!# out of some of us (uh, ME) when it started flying around the back room! Anyway, last spring, I completely cleaned out the space where we had been maintaining a stack of wood for YEARS. Today I stacked the NEW load of wood :-) We are ready for winter but indian summer is in the forecast. Probably because SUZIE is gonna drive it up from FL!!!
Tue. Oct. 7: Ye gods! What did I do today that was interesting? Nothing really except break up a cat fight outside my kitchen window! Mmmrrooowwwwlll yooowwwll! Kee-reist!
Wed. Oct. 8: The latest fashion in dashboard lights: AIRBAG -- in the crappy old blue beastie, of course. The car with the baby-killer airbags. Should I bother w/ Naylor or just put duct tape over it? :-) And why don't you engineers make more USEFUL dashboard lights for things like when my power steering fluid was leaking out last summer?
Thu. Oct. 9: Suzie's here! She's one of my favorite sisters-in-law. Actually, I have 7 favorite sisters-in-law, which is nice since I have NO sisters... well, except for Sam... and my female cousins.... my family(ies) are the best!!
Fri. Oct. 10: HL w/ Suzie, Bob, GG & guinea pig. BEAUTIFUL drive and GORGEOUS here -- Lake is like glass all the way around. For the 1st time ever, I mistook Bob for Bill for 10 minutes or so (complicated to explain, involved guinea pig :-) Then walked around the point & was flirted w/ by some old man who was serving as a get-away driver for a couple of old woman garbage stealers. YES of course, I flirted back! ;-) ;-)
Sat. Oct. 11: Bill, Anne, Bob, Suzie C, Kathy F, Susie F, Datura, Jim, Becky, Chelsea, Lacy Mae, Haley Sue, Sally, Bernie, Steven, Riley, guinea pig (who'd I forget?) Hiking @ Beaver Creek, walk in the swamp (dry this season) & hung out down by the shore.
Sun. Oct. 12: Hiked @ Beaver Creek again, then an hour of scrambling around w/ lunch, cleanup & packing, then hit the road. Traffic jam north of Alma added an hour to our trip & we were totally roto by the time we got home. Scott & Mollie over for chinese take-out.
Tue. Oct. 14: R-a-i-n-y day! Drove over to northern burbs for lunch @ Red Lobster with in-laws: Kathy, Liz, Jim, Susie, Joanne. Very exciting drive featuring zero visibility, millions of trucks and 85-mph-no-blinker-lane-changing maniacs everywhere! But it was well worth the drive! I love my Courtois relatives so much!!! :-)
Wed. Oct. 15: Close encounter w/ a black & white aminal while the stars were still out this morning. It was right at my feet & it was NOT the ghost of Mike Cat who, back in the day of outhouses, used to startle Birch Pt. Beach Fins making nocturnal trips to the back 40. I was all the way across the street in about a split second. Why it didn't spray, i do not know. *Almost* as scary as swimming w/ alligators.
Thu. Oct. 16: Well, this was a frustrating day complete with a broken computer (iMac: vintage 1999, color strawberry). Just to top things off, Elena and I realized we could not LOCK the T2C rehearsal space! We called BOTH Paula & Mouse to bring a key and then couldn't get hold of either to say the other was coming so they BOTH came! Glad this day is over!!
Fri. Oct. 17: Drove to kzoo & back to give Lizard Breath some early birthday presents & take her out to lunch. She has a great room with nice roommates & doesn't have to trek to a community bathroom this year. Homework, friends, theatre stuff, concerts, etc., are keeping her busy, sleep-deprived & happy (well, except she's not particularly happy about c-a-l-c-u-l-u-s ;-)
Sat. Oct. 18: Mouse & all other college-bound juniors got up at an un-godly hour (for teenagers) to take the PSAT @ Huron High, a totally inconvenient place for us west-siders. She didn't have much of an opinion about the test, she was pretty much still asleep. We both think they should schedule those stupid tests for 10 AM or even noon.
Sun. Oct. 19: Completely and totally boring day and the house looks like a tornado hit. I would MOVE but I know this is the only house in or around A2 with a WOODS behind it that we can *afford*!!! (and this one is PAID for ;-)
Mon. Oct. 20: Happy birthday to my favorite 17-year-old niece, Valerie! I was a social butterfly today: coffee w/ Marci, lunch/shopping w/ Karen (Val's mom), then Susie came over for one last visit before her return to Florida. And we will miss her...
Tue. Oct. 21: Apparently the 7th-grader across the street has been fascinated by the junk visible inside our front window, particularly a plastic storage unit which apparently looks like a cage containing a MYNAH BIRD! She's been watching our living room with binoculars! (ROFL!)
Wed. Oct. 22: Happy birthday Julia, my favorite 29-year-old niece & Colorado social worker! GG had lunch @ Metzger's & is now reminiscing about his Grandma O'Neil's (nee Kuehl) German food & why don't *I* ever make that stuff? Duh, I am a Scot? Haggis, anyone? He declined & I dunno how to make haggis anyway. Then, after all that, the A2 News had a recipe for *vegetarian* haggis - sheesh!
Thu. Oct. 23: Happy birthday, Elizabeth, my favorite 19-year-old daughter & K College sophomore.
Fri. Oct. 24: Breakfast w/ Elena @ Zola, then kayaked around down on the Huron while the GG sat in a bog and read. Poll: Should we try to rebuild the 5-year-old iMac using salvaged parts? Or should we buy a new computer? Cast your vote!
Sat. Oct. 25: Cleaning rodent crap (!) from the top corner cupboard, this is a partial inventory: tea: 2 boxes Red Zinger, 2 boxes Peppermint, 1 box each Mango Passion Fruit, Organic Sampler, Sleepytime, Ginger Peach plus a few random tea bags. chocolate chips: BIG bag semi-sweet, 2 (or was it 3?) partial bags semi-sweet, 2 partial bags white chocolate, 1 partial bag butterscotch. So drink tea & eat cookies, you guys!!
Sun. Oct. 26: Only one vote (replace iMac or not) so far but it was a predictable one ;-) OLD iMacs (like ours) are going on eBay for $100. PowerMac's (we have one in the basement) are going for $50.
Mon. Oct. 27: I wonder why I haven't decorated for Halloween this year. Is it because the kids are mostly grown up and one is out of the house? Or is it because the house is such a HUGE disaster area that it already LOOKS like a haunted house? Or is it just because I'm lazy?
Tue. Oct. 28: Well, this day was full of mostly mind-numbing errands & tasks & now I have to gear myself up for the umpty-nine-millionth YAG parent meeting of my career. Ran into the kids' kindergarten teacher @ Kroger today, we still recognized each other. That's about as exciting as it got.
Wed. Oct. 29: Living next to a woods... The leaf pickup isn't until Tuesday, the leaves aren't even all down, the leaves are soaking wet, if we put the leaves in the street, we have no place to park the jeep unless we want a car fire like when we parked the "little blue car" on leaves (hmmmm....)
Thu. Oct. 30: A partial inventory of my kitchen counter: toaster, powerbook, printer, mouse, blank CD's, a bunch of rocks, 3 fish floats, several sticks, 5-6 plastic parts from exploded fireworks, sharpies, Suzie C's birth certificate (must mail), a dead ink cartridge, kleenex even tho no one needs it now, origami paper/books.
Fri. Oct. 31: Halloween outfit: black shorts, black tank-top, teva sandals, no socks, garden gloves, rake.