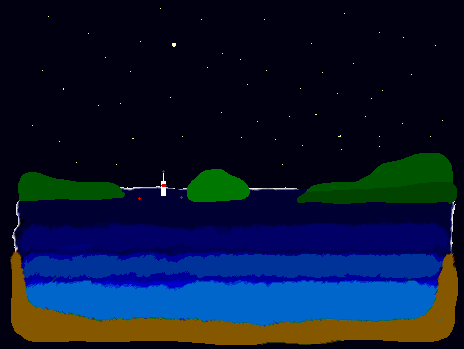 August 2003 Birch Pt. Beach Blog
---
Fri. August 1: the 90-hundredth anniversary! Started out raining but turned into a beach day. 6 kayak fleet to the island, then swimming, beer and other beach day activities.
Sat. August 2: grocery store, visited many beach residents, anniversary party. Weather warm with mixture of sun and clouds. Much kayaking, etc.
Sun. August 3: Whitefish Point "expotition", Courtois's and GB Fins. Jeep has new clutch and people are having lots of fun re-learning to drive it J
Mon. August 4: blueberry & jeep driving "expotition" to Raco area. Pengo Janetto can't wait to take driver's ed next summer. Others all have licenses.
Tue. August 5: Art Fair! Lots of earrings purchased among other things. Triplets got puppets! Lunch at Penny's Kitchen.
Wed. August 6: FRONT LOADER @ DOELLE'S (old lighthouse keeper's house). Foggy throughout mid-day with lots of "horning" (triplet-speak) by freighters. "Expotition" to Raco. Kayaked in waves and got semi-swamped, then swimming in the dark w/ the kids.
Thu. August 7: Happy birthday Harry! Bill/Liz left @ noon, Bill to A2, Liz to HL to meet friends. Kids to Clyde's, Jim & me to Penny's Kitchen. Jim/Val tore down the old outhouse!
Fri. August 8: Boring, cold, windy day until... "Mommy, the van makes a funny noise when you turn the steering wheel..." Added power steering fluid and taking the crappy old blue beast in on Tuesday to check the power steering pump (?) and put a new a/c belt on. Hey, I know I'm always ragging about engineers but THANK YOU BRO' for all your help!
Sat. August 9: Hessel boat show/art fair! Found Martha Lindquist (jeweler) and bought Mouse 2 sets of earrings and a ring. Blue Beastie chugged along just fine J Back to cabin for beach day until it got cloudy and chilly. Mousey and I swam *anyway*! GG's 30th Dondero HS reunion.
Sun. August 10: a REAL beach day! Not just a pretend one! Swimming, kayaking, beer and gossip!
Mon. August 11: van issues, Clydes, beach day
Tue. August 12: Happy Birthday Jim. Laundry, beach day, STILL messing with van issues.
Wed. August 13: Marquette! Dropped Mouse off w/ Kati & Paula for a couple days. Lunch at The Vierling, & stopped at Snowbound Books, then hit M-28 for the return trip. Lots of exciting traffic, van drove fine but now the general consensus is that the a/c is in a failure mode - AGAIN!! I need a JOB so I can buy a new &$%# CAR! Other than that, a fun day...
Thu. August 14: HOT beach day! GB heron by old dock at Jeff's this AM. Kayaked all over bay. Boat trespassers down beach. Dressed in my police outfit (ratty old bathing suit & floppy sun hat), I hung my binocs around my neck, hopped into my yellow police boat & paddled down there to "evict" them. We needed grandaddy in his 50-year-old clothes, hat & walking stick to walk down thru the woods, then suddenly appear on the beach in his typical fashion. After a no-boat afternoon, MANY boats, including THE SYKES! Sally, Terri & Ana arrived in evening.
Fri. August 15: seagull wings (no body) by Doelle's creek. Harry & Paulette speculate coyote, Bubs says hawk or owl. Kayaked w/ spiders to Mosquito Bay, 4 boats: Victoriaborg, Presque Isle, Pineglen, Algonova, chopped up water pretty well. Picked up van in late afternoon. Car guys suspect a/c compressor is failing. Will fix in A2. Mouse back, Penny's Kitchen w/ Paula, Kati & Sue. Hung around with Sally, Terri & Ana -- good times, we MacMullans like to TALK! :-)
Sat. August 16: woke up to email from Sam Smith! She & John have recently returned from the the Yucatan. Foggy this AM, boats "horning", power back on in A2. Windy beach day. Mouse says this is the first day it feels like summer -- I THINK she means to say it's been kind of a hectic summer on the beach (but I'm sure she'll correct me if my interpretation is inaccurate)!
Sun. August 17: 2nd to last day here! Beach day! Piedmont's burned their old boardwalk. Doug, Jeannine et al here in evening. Mouse & I investigated a fire down by the Faunts and found that it WAS Faunts, so we met a couple of those. I heard young voices & a lot of swearing, so was concerned about unsupervised teenagers at the end of the beach. But it was Faunts.
Mon. August 18: Last day! G-daddy & I walked Ganzhorn Blvd. from the end of the pavement to the NEW ROAD!! Then was walking beach & met Fire Chief Betty coming back from the end smoking out the ears & nostrils!! The Faunts had made no attempt to put their fire out & it was still smoldering! So, we snagged some dry-wall buckets from Mike's humongous stash and headed down there to put out the fire. So now I am both the police and a fireman!
Tue. August 19: back in a2 @ about 3. 5-1/2 hours on Lansing route. Van drove just fine. Squealy noise is gone (knock on wood). Maybe a/c fix can wait a while...
Wed. August 20: I began the summer knee deep in rodent crap and now it seems I will also end the summer knee deep in rodent crap. This time the mice are INSIDE the house... Liz & friends driving to Cleveland area for camping and Radiohead concert.
Thu. August 21: There were scurrying noises under the kitchen sink this morning, so I left a note for the Household Exterminator (i.e., the GG) to check on the mouse situation when he got up. Then I left for my walk and when I came back, he was gone. But the scurrying noises were still in there. He FORGOT to check on the mouse. As it turned out, the mouse was caught but VERY much alive!! I put on my winter boots, pulled the trap out with bacon pliers, went outside and pried open the spring with a VERY long-handled spatula. That mouse skedaddled!!! (Let's see, Policeman, Fireman, Exterminator? What next?)
Fri. August 22: The mad scientist needs to go to work or somewhere. Lots of t-storms last night and a tornado siren blew causing Mouse, who was out in the jeep, to call wondering what she should do. Since she was at the video store, I said "stay where you are!" In the end, it was all much ado about nothing.
Sat. August 23: Liz had plenty of adventures on her camping & concert junket to Cleveland, including a breakdown on the turnpike (another kid's car, not hers) & running into her cousin Doug who was coincidentally at the concert too. VERY boring here in A2, messed around with javascript & the YAG website. I NEED MY KAYAK!! I thought we were in for another boring day but the GG had other plans. "How would you like to go to a lake today?", he said. I thought he meant going to a public beach, which I DIDN'T want to do (yuck!). But there was a party at Ted's house on Portage L. w/ a bunch of EPA people who help him out with Operation Good Cheer, which buys xmas gifts for kids in need. Food & beer & people I haven't seen in years. BUT I STILL NEED MY KAYAK!
Sun. August 24: It had to have been about the most boring day on earth. Chores & errands in the morning, then 4 people were using 4 computers in the afternoon: Liz (iMac in her room), Mouse (old iMac in the back room), me (powerbook in the kitchen), GG (toshiba laptop at the dining table). He was the only one NOT on the internet. Computers NOT in use: old powerMac in basement, assorted old Mac Pluses & Apple II+'s in the computer graveyard (that's at least 4, some work, some don't).
Mon. August 25: Reconnected w/ Monday coffee friends today, Marci is off to Australia this afternoon, Sari takes her 3rd kid to college tomorrow. Liz's friend Colleen leaves for college today. Visited rwj's new offices in afternoon, then YAG board meeting in the evening. Up late watching thunderstorms. kayak withdrawal...
Tue. August 26: 1st day of Mouse's junior year @ Commie High & started out w/ a bang as severe thunderstorms rolled through. Lots of computer work today, boring to anyone but me, house was a swamp! Shopping cart race at midnight but haven't heard a report about that yet.
Wed. August 27: Found picture of Liz's 1st day of kindergarten @ Haisley School. She was only 4 but she was "too smart" for another year of nursery school. (She doesn't want me to say that part about being smart but I'm gonna 'cause I'm her mom :-) Cruised around in the jeep to do lots of errands (new clutch makes HUGE difference), post office is NOT open at 7:30 AM anymore! Now setting up to do computer work the rest of the day.
Thu. August 28: Mouse and I were observed driving down Miller to Commie today by Jane R. I guess it looked like I was being driven to school :-) Actually, it was not a particularly pleasant drive as I did not keep to my usual policy of letting the mouse nitroglycerin wake up fully before trying to communicate with it ;-)
Fri. August 29: Drove to Houghton Lake with the old, rusty jeep & Courtois trailer. Bob, Jim, Lacy Mae & Haley Sue are here. Did some kayaking but due to high winds, it's not ideal, at least not on Houghton Lake. Kayaked Haley Sue around close to shore. Mouse is camping with Connie's family & a few YAGgies on Lake Michigan, Liz is hanging around A2 w/ friends and the gp. Drinky-poo time here, Rolling Stones on the iPod, PARTY!!
Sat. August 30: South Branch AuSable River today. GG & I kayaked from Chase Bridge to Smith Bridge, 12 miles or so. Bob walked from Smith Bridge to Chase Bridge & we all reconnected. We're having fun here, but the excitement is definitely in A2! About 1/2 hour into our kayak trip, my cell phone rang but it lost the signal before I could get to it. Tried to call Liz but couldn't get a signal, so tried not to worry that something was wrong. As it turned out, she returned late last night from a trip to Detroit, opened the freezer and heard a sizzling noise like water hitting something hot. And it WAS (too complicated to describe here)! Luckily, she discovered it & turned everything off before a fire got started. As soon as that little adventure was finished, an ambulance appeared at the neighbors. Eventually, she got to bed...
Sun. August 31: Started today in Great Style! Slept in the Little Princess trailer last night (by myself, not with 8 other people ;-) At about 5 AM, I awoke & decided to go out & look at the stars, etc. But I COULDN'T GET OUT!! The door was BROKEN & I was STUCK INSIDE! Went back to bed until almost 7, then used the last little bit of my cell phone battery to call the cabin so the GG could get me out! Kayaking, fishing (Jim & kids), 2-tracking w/ jeep, ski ranch, Farnells stopped by in afternoon.